Constant Spring Hanger/Support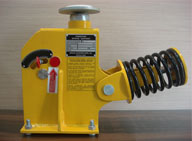 Constant spring support is specifically used to accommodate constant effort load, excessive movement of the pipeline due to high temperature and pressure of thermal movement. Constant load takes place through its range by a perfect counter balance crank lever where load and spring movements through the pivot ensure the minimum kinetic variation.
Range
We offer 30 size of group A to O and three series prefixed CS1, CS2 & CS3 for both horizontal and vertical model. 30 sizes constant spring support allows a load range from 25 kgs. to 16020 kgs. and maintains a travel range upto 300mm.
Special Range/Design
Apart from our specified standard design and range of product, we undertake jobs specially designed by us to fulfil client's requirements i.e. constant spring support can supply more load/travel than that provided in our standard selection table. Special type of fixing arrangement can be designed apart from our standard.