Variable Spring Hanger/Support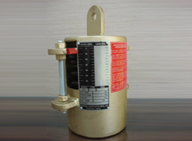 Variable spring supports are used where pipelines are under high pressure, high temperature and results in vertical movement. To allow vertical movement, all the loads are taken care of by variable spring support in both the hot and cold position. The variable spring supports are utilized to protect valuable instruments, pipelines and critical components. The designs of the variable spring supports are based on loads, movement & models to suit the required positions on pipelines and also depending on the weather condition.
Range
We offer five series prefixed VS1, VS2 VS3, VS4 and VS5. Twenty-five spring sizes allow a range of load 8.2 kgs to 29,700 kgs. In all the series VS1, VS2, VS3, VS4 & VS5 provide travel 40 mm, 60 mm, 80 mm, 120 mm & 160 mm respectively. It also takes 5˚ Co-Liner displacement. We offer models such as A, B, C, D, E, F & G.
Special Range/Design
Apart from our standard design and product range, we undertake jobs specially designed by us to suit client's requirement. To avoid corrosion, we offer neoprene rubber coating on spring and epoxy painting/galvanizing.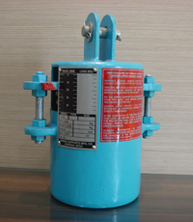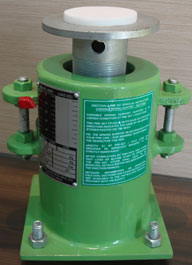 Design Principles
Support components are arranged in a series of load groups, the load within each load group is in strict accordance with the permissible load of the connecting thread. All supports have a strictly symmetrical shape, have single upper and lower load connection resulting a moment free load connection to the structure. The actual travel position of the hangers/supports can be read directly from the travel scale in mm. in accordance with the actual travel. All hangers/supports can be blocked in installation position within a close raster.
Supply Standard
All hangers / supports have a rivet on name plate with travel scale, displaying series, size, type, hot load, cold load, travel and client's.
Guarantee
Each and every spring support / hanger assembly is guaranteed for a period of 18 months from the date of supply or 12 months from the date of commissioning, whichever is earlier. We shall replace with free of charges if any materials, which owing to defect in raw materials or workmanship, should fail within guaranteed period.